Facebook CEO Gives Pope Drone During Vatican Visit
2016-09-01 20:55:47
---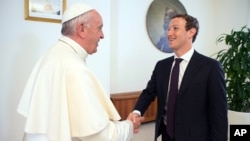 ---
Facebook founder Mark Zuckerberg met Pope Francis at the Vatican Monday and gave him a high-tech gift -- a drone.(1)
Facebook 创始人马克 · 扎克伯格周一举行会议在梵蒂冈教皇弗朗西斯,送给他的高科技的礼物 — — 一架无人驾驶飞机。
However, it was not a working drone.(2)
然而,它不是一工作架无人驾驶飞机。
His gift was a model of the aircraft Facebook plans to use to bring internet access to people in developing countries.(3)
他的礼物是飞机的 Facebook 计划用于给发展中国家的人民带来互联网接入模型。
Zuckerberg posted a picture on Facebook showing him presenting the model drone to the Pope at his Santa Marta residence in Vatican City.(4)
扎克伯格在 Facebook 上发了一张照片,显示他模型无人机向教皇在梵蒂冈的圣玛尔塔居所。
"We gave him a model of Aquila, our solar-powered aircraft that will beam internet connectivity to places that don't have it," he explained.(5)
他解释说,"我们给了他一个的天鹰座,我们将梁的地方,没有它,互联网连接的太阳能动力飞机模型"。
The businessman's wife, Priscilla Chan, also attended. Zuckerberg said they were touched by the meeting.(6)
商人的妻子,普莉希拉 · 陈,也出席了会议。扎克伯格说,他们被感动了会议。
"You can feel his warmth and kindness, and how deeply he cares about helping people."(7)
"你能感觉到他的热情和友善,和他如何深深地关心帮助人."
He praised Pope Francis for finding "new ways to communicate with people of every faith around the world."(8)
他赞扬教皇弗朗西斯寻找"新方式与每个信仰世界各地的人们沟通"。
The Facebook founder and his wife launched the Chan Zuckerberg Initiative in December 2015.(9)
Facebook 创始人和他的妻子发起了陈扎克伯格在 2015 年 12 月。
He said he spoke with the pope about the initiative's goal "to advance human potential and promote equality" in all parts of the world.(10)
他说,他与教皇谈到该倡议的目标,"以促进人的潜能、 促进平等"在世界各地。
The organization works on many issues.(11)
本组织在许多问题上工作。
They include personal learning, fighting disease, connecting people and building strong communities, according to information on its website.(12)
他们包括个人学习、 疾病作斗争、 以人为本和建立强大的社会,在其网站上的信息。
Vatican spokesman Greg Burke said one topic discussed was "how to use communication technologies to alleviate poverty, encourage a culture of encounter, and make a message of hope arrive, especially to those most in need."(13)
梵蒂冈发言人格雷格 · 伯克说︰ 讨论的一个话题是"如何使用通信技术,以减轻贫困、 鼓励的遭遇,一种文化,使一个希望的信息到达,尤其是对那些最需要。"
Facebook disaster help(14)
Facebook 灾难帮助
Zuckerberg announced he was traveling to Italy after a deadly 6.2 magnitude earthquake struck the country last week.(15)
扎克伯格宣布他去意大利旅游后致命 6.2 级地震袭击了该国最后一周。
Nearly 300 people died in the quake, which hit the central part of the country.(16)
中发生的地震,使该国中部地区的近 300 人死亡。
In a Facebook post, he expressed concern for victims of the earthquake and their loved ones.(17)
在 Facebook 帖子里,他为地震和他们的亲人的受害者感到关切。
Facebook has tried to improve communication during disasters. A few years ago it launched its Safety Check system.(18)
Facebook 一直试图提高灾害期间的通信。几年前,它推出了其安全检查系统。
The program allows users to let loved ones know they are OK after a disaster or terrorist attack.(19)
这个程序允许用户让亲人知道灾难或恐怖袭击发生后,他们很好。
In Italy, Zuckerberg held a live question and answer session with Facebook community members.(20)
在意大利,扎克伯格举行现场答问与 Facebook 社区成员。
The Facebook founder also met in Rome with Italian Prime Minister Matteo Renzi.(21)
Facebook 创始人还在罗马会见意大利总理利玛窦兰奇。
He said the two discussed the earthquake, and how technology is creating jobs to help Italy's economy.(22)
他说这两个讨论地震,和技术如何创建的职位,帮助意大利经济。
Zuckerberg spoke about Facebook's efforts to provide equipment to researchers across Europe to study artificial intelligence.(23)
扎克伯格谈到 Facebook 的努力向研究人员提供设备,整个欧洲,研究人工智能。
I'm Bryan Lynn.(24)
我是布赖恩 · 林恩。
All Articles fetched from Voice of America RSS (Really Simple Syndication) feeds and copyrighted by voanews.com