Lionel Messi Receives 21-Month Prison Sentence
2016-07-06 21:01:41
---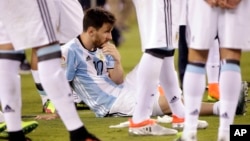 ---
This is What's Trending Today:(1)
This is What's Trending Today:
Lionel Messi is known for escaping defenders on the soccer field.(2)
莱昂内尔 · 梅西闻名逃逸捍卫者在足球场上。
But he was not able to escape a conviction for tax fraud in Spain this week.(3)
但他不能逃避税务欺诈在西班牙本周的定罪。
A court in Barcelona, Spain, sentenced the Argentinian soccer star to 21 months in prison on Wednesday.(4)
周三,在巴塞罗那,西班牙,法庭判处监狱至 21 个月的阿根廷足球明星。
Messi plays for Barcelona's soccer team during the club season.(5)
梅西为巴塞罗那足球俱乐部季节。
He is the five-time winner of FIFA's player of the year award.(6)
他是国际足联的年度最佳球员第五次获胜者。
Investigators in Spain said they found evidence that Messi and his father, Jorge, hid money that should have been taxed by the Spanish government.(7)
在西班牙的调查人员说,他们发现的证据,梅西和他的父亲,豪尔赫,藏应被征税由西班牙政府的钱。
The younger Messi earned the money from 2007 to 2009.(8)
年轻的梅西赚了钱,从 2007 年到 2009 年。
Tax inspectors said over $4 million of Messi's money went to accounts in Uruguay, Switzerland and Belize.(9)
税务稽查员说超过 $ 400 万的梅西的钱去在乌拉圭、 瑞士和伯利兹的帐户。
Messi was fined over $2 million. His father was fined about $1.5 million. Jorge Messi was also sentenced to 21 months.(10)
梅西被罚款 $ 200 万。他的父亲被罚款约 $ 150 万。豪尔赫 · 梅西还被判 21 个月。
Neither man, however, is expected to spend any time in prison.(11)
不过,两人预计将在狱中度过任何时间。
In Spain, first offenses carrying sentences of less than two years are usually suspended.(12)
在西班牙,少于两年徒刑的第一次进攻都通常被挂起。
Both Messis told the court they did not think they were breaking any laws.(13)
这两个 Messis 告诉法庭,他们并不认为他们违反任何法律。
The news about Messi was one of the top trending topics around the world on Facebook and Twitter on Wednesday.(14)
关于梅西的消息是在 Facebook 和 Twitter 上周三世界各地顶尖的热门话题之一。
People made their feelings clear about Messi's actions.(15)
人,使他们的感情清除关于梅西的行动。
Zaheed Sabur used Facebook to say: "you already have more than you can ever spend. Shame on you Leo Messi!"(16)
Zaheed Sabur used Facebook to say:"你已经有更多比你曾经花的多。你真丢脸梅西 !"
And, many people questioned why Messi could not pay his taxes like everyone else.(17)
而且,很多人质疑为什么梅西可以不纳税他像其他人一样。
And that's What's Trending Today. I'm Dan Friedell.(18)
而这正是今天的趋势是什么。我是丹 Friedell。
All Articles fetched from Voice of America RSS (Really Simple Syndication) feeds and copyrighted by voanews.com